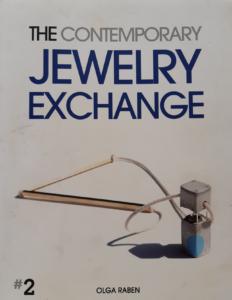 An animita is a little memorial built in commemoration of people killed at road accidents, sprinkled all over Chilean roadside, as a comforting transit for the soul before it leaves to go to heaven. In 2014 I signed up for a 'jewelry exchange'. The organization matched pairs of jewelry designers from all over the world, to make a piece for each other for free. The results were published in a catalogue: 'The contemporary jewelry exchange 2014' by Olga Raben.
During our first contact via Skype, Vania (from Chile) and I had that special click right away. After exchanging pictures, stories, passions and ideas, we both made a piece and posted it. I will never forget that magical moment when I received her package. I was visiting friends while I got the phone call from the courier: 'I am at your house to deliver.' He offered to drop the parcel at my friend's house on his way back. I was very excited to be able to unpack the piece in company of my friends: so nice to share a happy moment! Well… it was way beyond 'just' a happy moment. I was totally flabbergasted, moved to tears and very much embarrassed by this beautiful piece. The pictures speak for themselves…
Vania told me the same kind of story. She was with her mother when she got my necklace, and both were in tears as well…
Vania Ruiz Casa Kiro
Chile
I like stories, anecdotes. I believe I'm a kind of jeweler who needs to make everything with a story behind, creating small worlds that can open big conversations. I'm so glad I got matched to Evelien, because in few Skype conversations, we found ourselves to be very connected. Connected in grief, in pain and healing, in the ocean and the treasures hidden in the sand. The differences of our work helped me understand more about my own.
The piece is a locket, a collector's box, a rough shell, but also a soft and translucent landscape. Like a found treasure coming from the ocean.
Materials
Acrylic and epoxy resin, brass, curahuilla, merkén and quinoa.
Inside the pendant she wrote: Embrace your pain. And the text on the ribbon says: 'For my dear Eveline, collector of abandoned objects, creator of found treasures, healer of severe pain'.
Eveline Sipkes
Curacao
Looking at Vania's necklace with the 'animita' for her father who passed away, I was touched by the emotions she expressed in that piece. I couldn't resist using that idea to make her a necklace.
I made a necklace with some 'animitas'. Instead of a kind of altar for a soul from someone who passed away, I made 'comfort zones for the living soul', thinking of our need to be loved and cherished.
While facing the grief of the sad things that happen in our lives, I felt comforted myself, making this necklace to offer some healing thoughts to someone else.
'Comfort zones for the living soul'
Necklace, 2015
Materials
Stone wear, gold luster, linen, iron, wood, copper, seeds.
It was kind of magic that we were paired in this exchange, because we have so much in common.
I feel very privileged and grateful that we had the opportunity to make each other a very special and meaningful piece.
It was nice to take a picture of Vania's piece near the sea, just where it came from…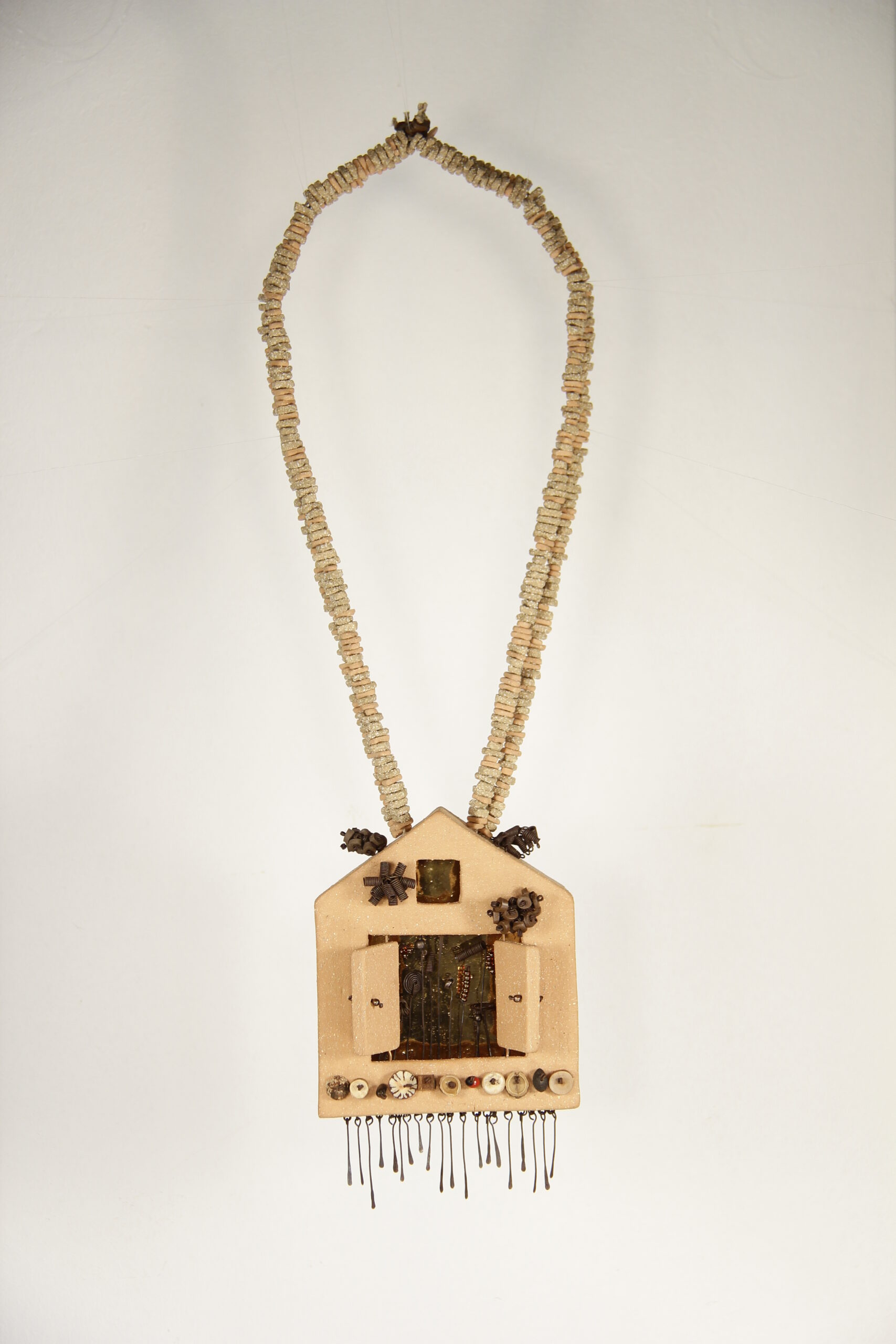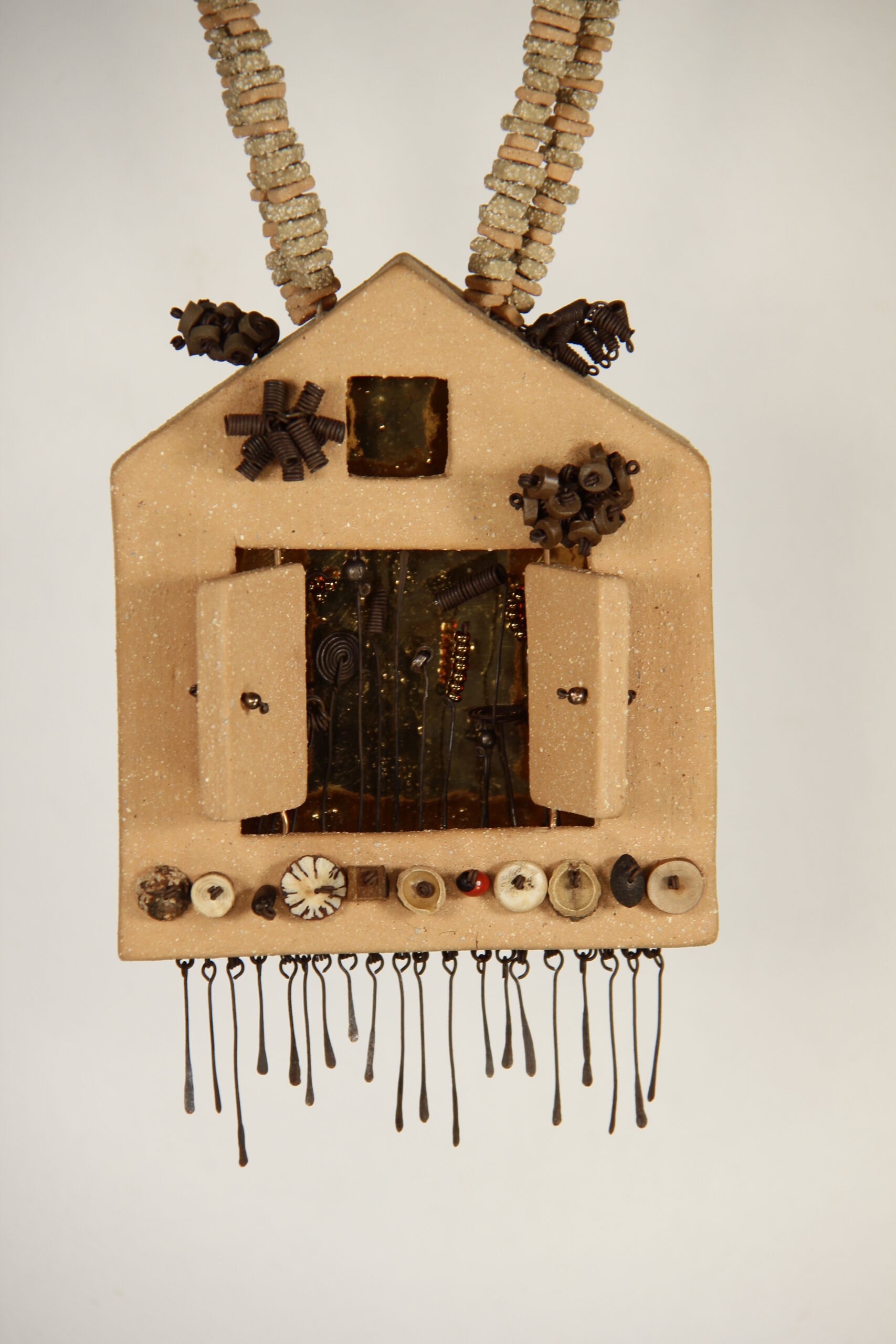 I wasn't done yet with this idea of a comfort zone for a living soul, so the next year I made another one. A bigger one, fastened in a frame to put on a table or hang on the wall as an object.